ResortQuest Real Estate is proud to announce 2 new pre construction opportunities in Destin and South Walton.
Located in Destin, The Henderson Lofts will be a 54 residential condominium building located in Destin, Florida that cannot be replicated due to its location and inclusion in the new Henderson Beach Resort. Its location in Crystal Beach is sought after by owners and vacationers alike because of the low density and central location to shopping, golfing, and transportation in Destin. The project abuts the east side of the Henderson Beach State Park, which offers over 1.5 miles of natural secluded white sand beach. The Henderson Beach Resort will offer fine dining, a beach club with private beach access, large pools and a lazy river, a luxury spa and fitness facility, and unmatched service. The first phase of the Henderson Beach Resort, a 170 room Five Diamond quality hotel, is currently under construction and will open in the fall of 2016. The Henderson Lofts will be located on the Resort's southeast corner, on the corner of Scenic Highway 98 and Matthew Boulevard. Construction of The Henderson Lofts has begun and completion is anticipated mid-2017. Pricing starting from $315,000.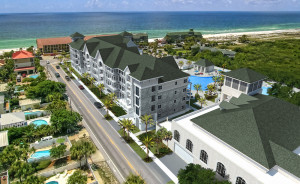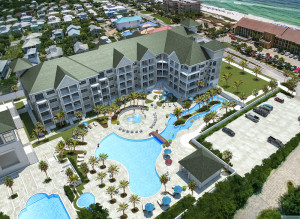 Located in South Walton, RidgeWalk is 30A's best new address. Born from a love of the great outdoors, RidgeWalk is a nature-rich planned community of 74 secure home sites peacefully nestled among 19.5 acres of which 48% is untouched nature preserve. RidgeWalk is situated on the eastern boundary of County Highway 393 less than a mile north of the intersection of Highways 393 and 30A. RidgeWalk is a short distance down the paved pedestrian walk to the world class dazzling white sand beaches of Florida's Gulf of Mexico with direct access from Ed Walline County Park.
RidgeWalk is all about coastal neighborhood living with an appealing flavor of French chateau charm. Picture flickering gas lanterns supported by wood beams illuminating oak tree lined streets peppered with coastal French villa inspired urbane residences. Private front courtyard entrances with brick paver accents provide a sense of relaxed intimacy and a gentle transition from the outside to inside. Energy efficient, sturdy brick home facades are painted in a fresh white palette trimmed with Old World shutters, and gas lit entries offering a subtle grace that radiates warmth. The well-appointed interiors display strong wood beam architectural ceiling detailing with warm hardwood flooring elements, both beautifully refined and casually elegant. Ten thoughtful floorplans are designed for maximum comfort, beauty and livability. Prices start in the low 400's/
Please contact me directly if you have questions, or would like to learn more about either of these opportunities.