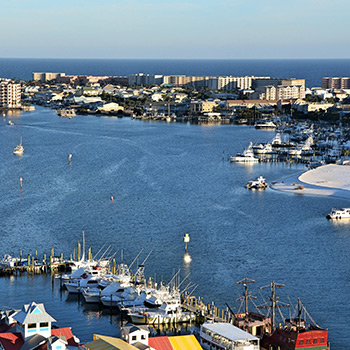 Destin, known as "The World's Luckiest Fishing Village", is obviously known best for its incredible sport and recreational fishing. But over the years it has also become known for its beautiful beaches, world class golf, and numerous dining, shopping & entertainment choices. Destin is the epicenter of the Emerald Coast and its explosion in popularity and growth gave birth to the rapid expansion east into the communities of South Walton.
Miramar Beach is just a stone's throw away from Destin, is a little more relaxed and is home to the area's large, amenity filled resorts – Sandestin, Tops'l and Seascape. Miramar Beach has the feeling of being right in the middle of everything, yet miles away from anything.
Dune Allen and Blue Mountain Beach – Heading a few miles east you'll begin to enjoy all that is 30A in Dune Allen and Blue Mountain Beach on the "quiet side" of 30A. Here you'll find a great mix of permanent residences as well as vacation properties mostly all located near the beach or around either of the area's 2 coastal dune lakes. Blue Mountain Beach gets its name from the magnificent Blue Lupine plant that grows wild all around the area.

Grayton Beach is known for its free spirited residents and carefree attitude. The area is also home to more of South Walton's rare coastal dune lakes. These lakes are only found in 5 places on earth – Madagascar, Australia, New Zealand, Oregon and right here in So Wal! These rare lakes occasionally open up and meet with the coastal body of water they border. And when they do, they exchange water, marine life and other organisms creating an environment of both fresh and salt water and a mix of species not normally found living together. Here you'll also find the only stretch of beach that allows vehicular traffic (permit only) which provides a unique twist on hanging out at the beach.
Watercolor – Bordering the town of Seaside on 2 sides, Watercolor is a 499 acre master planned beachside community that is full of magnificent southern coastal architecture and carefully planned neighborhoods. It maintains a small town feel and exudes southern charm. For the past few years, Watercolor has been one of the fastest growing communities along 30A.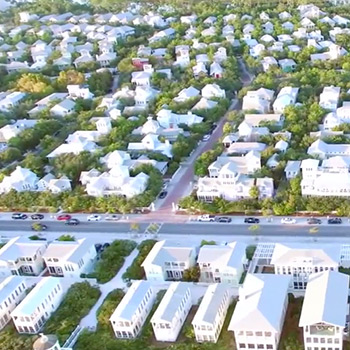 Seaside – the town that started it all down on 30A.. Seaside is considered by some to be the birthplace of new urbanism and is home to an eclectic collection of stunning coastal homes of every size and color. The town was designed back in the 80's to be "green" before the term was coined. Seaside was designed as a community where residents could work, live and play without having to leave the community or use a car to access any part of it. Narrow streets and wide walk and bike paths encourage you to leave the car behind and truly immerse yourself in the community. Seaside is one of the most studied communities by architectural students and is also goldmine for photographers, amateur and professional alike.
Seagrove – Just east of Seaside you'll find Seagrove, which just in the past few years has exploded in popularity partially due to its proximity to Seaside. Seagrove is a perfect mix of old and new with its charming small beach cottages next door to large, modern coastal estates. Seagrove is lush with oaks and magnolias and a trip down many of its old shell roads provides a spectacular view of some impressive coastal architecture.
Watersound is a beautiful master planned gated community consisting of cottages, homes and upscale condos. It is nestled among towering dunes along what some consider to be the most stunning stretch of beach along the Emerald Coast. Much care has been given to preserve the beach and its precious, protective dune line. Beautiful, meandering boardwalks weave their way through the contours of the dunescape to the sugar white beaches and emerald green waters.
Alys Beach – Visually stunning, Alys Beach sets the standard for luxury along 30A. From its towering palms lining the street to its Bermuda inspired architecture, Alys beach has redefined "upscale" in South Walton. No trip to 30A is complete until you've strolled through the streets and admired the simple beauty and timeless design found here.
Rosemary Beach – a 107 acre master planned beachfront community, is located on the very east end of 30A where it meets back up again with hwy 98, just a few miles short of Panama City Beach. CNN calls it one of America's most romantic small towns. The architecture is a blend of influences including West Indies, New Orleans, Charleston and St. Augustine. And in some areas you'll feel as if you've been transported into the past, to a 200 year old European village. Rosemary Beach gets its name from the herb that grows wild and in abundance all along 30A.